DENTAL OFFICES
PROBLEM: Dental procedures often create airborne contaminants, including oral aerosols, mercury vapor and other potentially harmful ultra fine-particles, that may pose a hazard to dentists, hygienists, and patients.
SOLUTION: HealthyAir® Source Capture Dental Oral Aerosol Extractors are strategically positioned to capture aerosols from the emission source, filter contaminants, and discharge treated air away from the breathing zone, thereby improving indoor air quality and helping to protect the health of dentists, hygienists, and patients.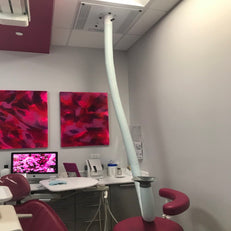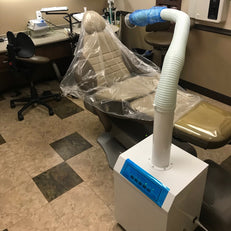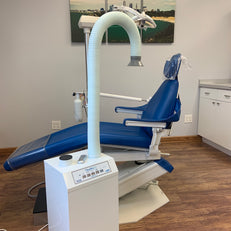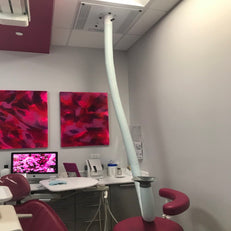 Dental Offices
The Healthy Air® Extraoral Suction System for Dental Aerosol Extraction effectively collects airborne contaminants that are often present in dental offices; such as oral aerosols, ultra-fine particles, VOCs, disinfectant odors, mercury vapor, drill aerosols and abrasion powder.
By extracting airborne aerosols, ultra-fine particles, and vapors directly from the breathing zone, Healthy Air® technology provides an added layer of safety by improving air quality in the immediate vicinity of interaction between individuals. This "source capture" feature helps protect doctors, dental technicians and patients alike.
The Healthy Air® Extraoral Suction System for Dental Aerosol Extraction may be operated as a Recirculating System or as an Outside Vent Negative Pressure System.
Patented eHEPA® Technology
With patented eHEPA® technology, this unit effectively filter air in a highly efficient and innovative 3-stage process, resulting in a safer work environment with a healthier breathing zone for occupants.
As contaminated air passes through the unit, the Pre-Filter, eHEPA® Filter, and Enhanced Carbon Catalytic Filter work in conjunction to collect and deactivate airborne particles; including dust, smoke, allergens, gasses, odors, and VOCs.
HealthyAir® System 3-stage process collectively utilizes the 5 filtration methods of Sieving, Direct impact, Inertial Impaction, Diffusion, and Electrostatic.
Medical Advise Disclaimer
THE PRODUCTS ARE NOT INTENDED FOR USE IN THE TREATMENT OR MANAGEMENT OF ANY DISEASES OR CONDITIONS AND SHOULD IN NO WAY BE CONSIDERED A REPLACEMENT FOR MEDICAL ADVICE AND ACTION IN ORDER TO CURE, TREAT, OR PREVENT DISEASES OF ANY NATURE. Please seek the advice of your qualified heath care professionals with any questions or concerns you may have regarding your individual needs and any medical conditions. Healthy Air Inc. does not recommend or endorse any specific physicians, procedures, products (including our Products), opinions or other information that may be included on the site; the same are only for informational purposes. Reliance on any information appearing on the site, whether provided by Healthy Air Inc., its content providers, the visitors to the site or others, is solely at your own risk.
Capture of Airborne Aerosols

Capture of Mercury Vapor