HealthyAir® Ventilation for Hair Salons
Source Capture Systems meet OSHA Salon Guidlines


Capture chemical byproducts of hair treatments


Protect your breathing zone


Prevent inhalation of toxins and sensory irritation


Hair stylists and clients are often exposed to unsafe levels of chemicals during routine hair treatments that are performed in poorly ventilated salon spaces.
Keratin hair smoothing services (Brazilian blowouts) release formaldehyde vapors into the air when heat is applied during the blow drying and flat ironing of hair, as well as during application of keratin hair smoothing products which contain formaldehyde releasing ingredients.
Repeated overexposure to formaldehyde vapors can cause "sensory irritation", (i.e. burning / watery eyes, scratchy throat and runny nose). Other symptoms may include difficulty breathing, occupation-related asthma and other related skin allergic sensitivity.
To mitigate exposure to hazardous vapors, and minimize the potential for "sensory irritation" and adverse health reactions, the Occupational Safety and Health Administration (OSHA) recommends the use of local Source Capture and general ventilation systems to reduce the concentration of airborne contaminants in the breathing zones of salon workers.
The easiest and most efficient way to protect hair stylists from vapors and aerosols entering the "breathing zone" - define as the two-foot radius in front of the mouth, is to provide the hair stylist with a Source Capture Fume Extraction System.
The HealthyAir® Source Capture Fume Extraction System effectively functions to draw in airborne contaminants, filtering these substances, and discharging filtered air away from the "breathing zone".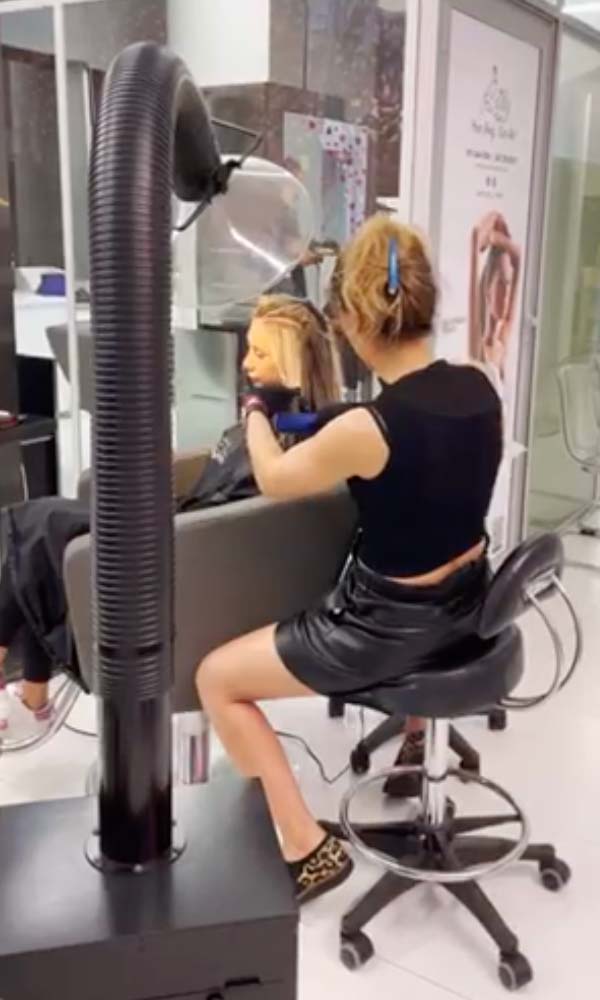 Most Popular Air Purification Systems for Hair Salons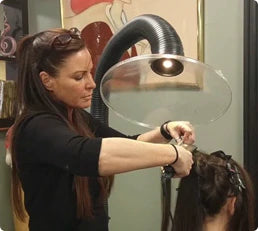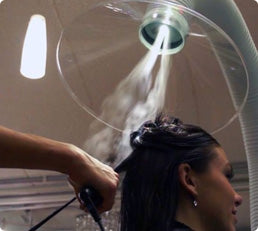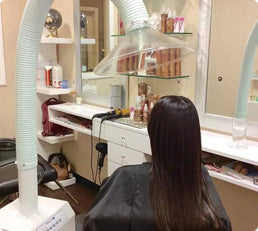 HealthyAir® Chemical Source Capture System with eHEPA® Technology, designed specifically to protect the breathing zone of hair stylists and prevent overexposure to formaldehyde. The most powerful and advance chemical source capture system on the market today, eHEPA® technology eliminates formaldehyde and chemical vapors in keratin hair smoothing treatments and other hair chemical services.