HealthyAir® Source Capture for Lash Studios
Capture toxic chemical vapors at the source


Improve salon suite air quality


Protect your breathing zone


Prevent inhalation of toxins


Reduce sensory irritation & allergic reactions


Eyelash stylists are routinely exposed to high concentrations of toxic chemical vapors while using lash adhesives that contain chemicals that are known to be harmful.
These chemicals can cause sensory irritation of the eyes, nose, throat, and lungs, allergic skin reactions, headaches, nausea and light headedness.
To protect lash artists and their clients, the use of a Source Capture Air Purification System is advised to extract airborne contaminants (mainly cyanoacrylates)
Cyanoacrylates are a class of compounds that serve as a major component of all professional eyelash extension glue and is the base material for all fast-curing glue.
Cyanoacrylate gives the lash glue its unique curing property. This is the material that ensures the adhesive dries in a matter of seconds and holds the lashes firmly in place for several weeks.
Many lash adhesives also contain poly methyl methacrylate (PMMA), an agent that forms a long-lasting, solid bonds, and is used in an eyelash extension adhesive to reinforce cyanoacrylate. While PMMA is rated as a low hazard ingredient, there are concerns that it can be a carcinogen, cause allergic reactions, immunotoxicity, and organ system toxicity.
Additonally, while formaldehyde is not an ingredient in lash adhesives, it is formed as a by-product during the production process by the decomposition of other components in the eyelash extension glue.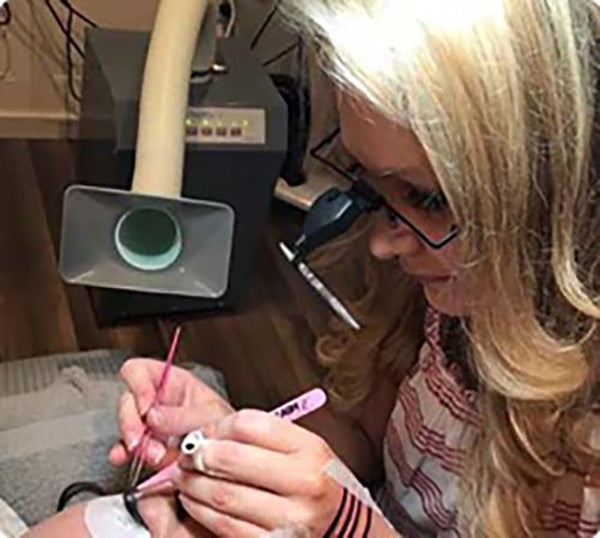 Most Popular Source Capture Systems for Lash Studios
All HealthyAir® Source Capture® Systems effectively extract toxic vapors, mist and harmful particles from the work station, thereby producing a healthy breathing zone for lash technicians and clients.